Our new research has revealed a fast-growing trend for 2020 – and one that is no longer exclusive to the UK's wealthiest individuals – the boating holiday.
We found that 40% of Brits consider staying on board a yacht, sailing boat or narrowboat in future, with this figure rising to nearly two-thirds of young professionals.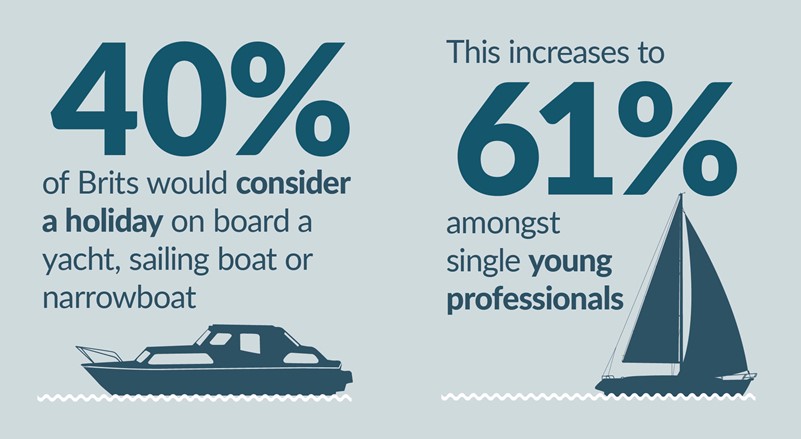 Boating holidays: the research
The findings come from our survey of 1,000 consumers, which we commissioned after we noticed a spike in searches for the term "boating holiday". We found that Google searches for this term have increased by 28% over the past five years in the UK.
When asked why they would consider a boating holiday, two-thirds of the survey's respondents said they were looking for a more unusual experience this year, due to the upheaval caused by recent travel restrictions.

A further 57% were simply bored of "normal" accommodation. Four in 10 respondents stated that they had always wanted to stay on board a boat but hadn't got around to it. More than a quarter said they have a newfound appreciation for UK waterways since lockdown.
Meanwhile, one in six – 17% – believe that holidaying on a boat would work out cheaper than a traditional hotel or other rented accommodation on land.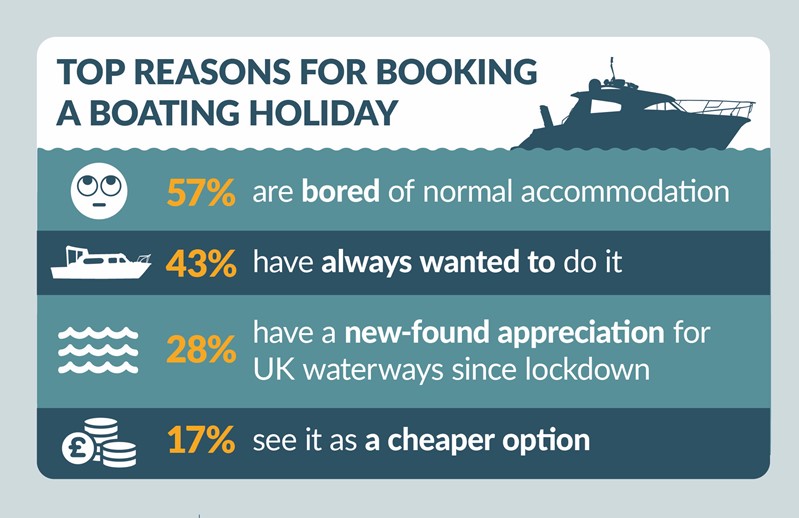 And it's not just holidaymakers who are getting involved in the trend. We also questioned 752 boat owners on the topic and found that one in 10 would be "very interested" in listing their boat as accommodation on peer-to-peer rental sites such as AirBnB or Beds on Board.
Both of these websites connect boat owners with guests and offer stays from as little as £100 per night.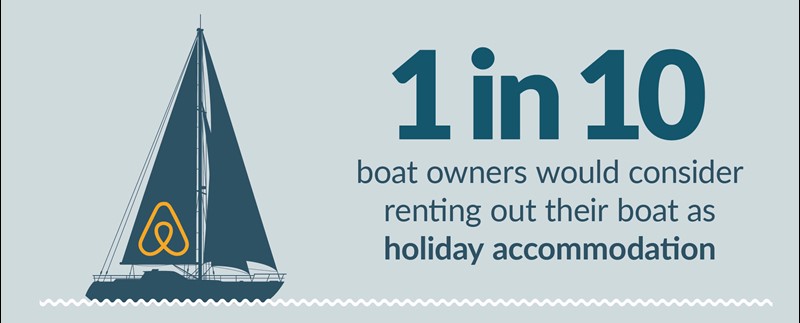 Amongst said boat owners, 34% stated that they would like to investigate the possibility of earning extra income from their boat. A further one in five said they'd like their boat to be used more often, rather than sitting empty.
A boat owner shares her experience
Boat owner Melissa Loveridge of Boat, Beds and Charter, has branched out from providing traditional B&B accommodation by offering luxury stays on board a yacht moored in Lymington on the south coast of England.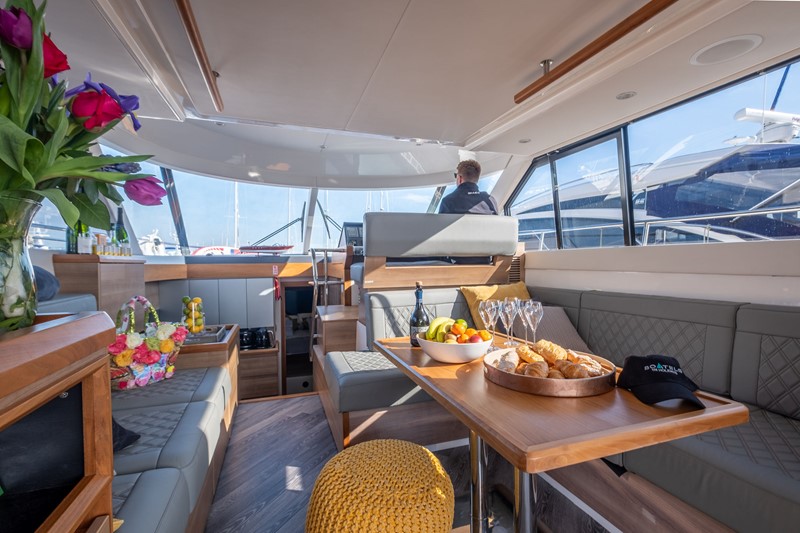 She said: "Guests get to stay on a fabulous boat that is fully equipped, much like booking a holiday cottage but far more exciting. After having previously run two successful holiday lets in the New Forest, I spotted a gap in the market; no-one was offering this type of accommodation.
"We have absolutely noticed a trend in more people wanting to take boating holidays. When we first started, it went crazy! A challenge at first was that new customers were intrigued by the concept but unsure about what was on offer. But, since then, other boat owners have followed what we do and the whole idea is becoming far better known. Initially we struggled with booking during the winter months but now we have guests all year round. In fact, we have since sold our first boat and upgraded to a much larger yacht that sleeps up to seven.
"You can of course hire the boat and stay in one place – but we also offer charters which cost between £1,000 - £1,500 per day. Guests are often blown away with the accommodation and if they add a charter to the stay, we always get incredible feedback."