Sailing world records have travelled through the centuries, from the original circumnavigation of the globe to single-handed records in single hulled boats.
And the records have changed markedly over time. The earliest recorded circumnavigation of the globe took place during the 16th century, when Spanish navigator Juan Sebastian Elcano sailed around the world on the Victoria… and this took three years!
Nowadays, though, circumnavigating the globe takes a matter of days. Some truly incredible sailing records have been set in recent times and we're going to look at them in this article.
However, we should stipulate that these records stand correct as of June 2020. It's not our fault if they get broken again any time soon!
Before we begin
In case you're unfamiliar with specialist sailing terminology, we explain some of the words you'll read a lot in this article:
Crewed: sailing with an onboard crew
Single-handed: sailing with only one crew member
Multihull: a ship or boat with more than one hull (which is the boat's body)
Monohull: a ship or boat with just one hull
Trimaran: a yacht which contains one main hull and two smaller hulls (or "floats")
The more hulls a boat has, the less water it displaces. This is due to having more hulls being in the water, as the main living areas are located on the bridgedeck above, spreading the displacement of their weight over a larger area.
Now that you're up to speed with these sailing terms, let's look at some of the standout sailing world records.
Transatlantic sailing records
The transatlantic sailing record is one of the most prestigious of all time. In fact, it has been ever since Christopher Columbus crossed the Atlantic Ocean in 1492.
The route can be completed either by sailing from West to East or East to West and can be attempted crewed or single-handed.
Sailing from West to East is the faster route, as it follows the prevailing winds. You need to make a crossing from Ambrose Light in Lower New York Bay to Lizard Point, Cornwall and the overall distance is around 2,880 nautical miles.
East to West is known as the Route of Discovery in honour of Christopher Columbus and is 3,884 nautical miles. On this route, the crossing is between Cadiz and Salvador Island.
Here's a rundown of transatlantic sailing records…
West to East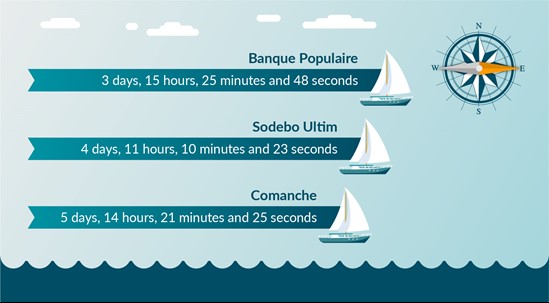 The current record for a crewed yacht is 3 days, 15 hours, 25 minutes and 48 seconds. This record was achieved by French navigator Pascal Bidégorry on the multihull Banque Populaire in 2009.
The fastest West to East time on a monohull is 5 days, 14 hours, 21 minutes and 25 seconds. This time was achieved by Casey Smith from America, who is also a professional stock car racing driver! Smith completed the route on Comanche in 2016.
The record for single-handed sailing is 4 days, 11 hours, 10 minutes and 23 seconds. This record was set by French yacht racer Thomas Coville, on the trimaran Sodebo Ultim in July 2017.
East to West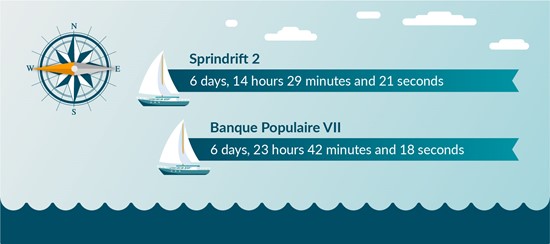 The crewed record is 6 days, 14 hours 29 minutes and 21 seconds. This is currently held by Dona Bertarelli and Yann Guichard, who sailed the route on the trimaran Sprindrfit 2 in 2013.
The single-handed record currently stands at 6 days, 23 hours 42 minutes and 18 seconds. This was set by French navigator Armel Le Cléac'h on Banque Populaire VII in January 2014.
Speed sailing records
Speed sailing records have been sanctioned since 1972 by World Sailing Speed Record Council (WSSRC). These are either based on average speed or total distance over a specified time. These are the three major speed sailing records...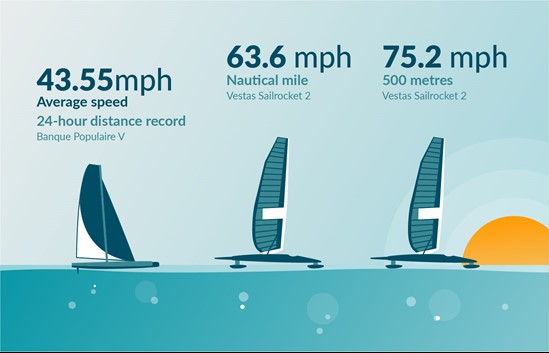 500 metres – The current record is held by Australian sailor Paul Larsen, who sailed his yacht Vestas Sailrocket 2 at 65.45 knots, or 75.2 mph. This was set in 24th November 2012 and is the first speed sailing record of more than 60 knots.
Nautical mile – This record is also held by Paul Larsen. He sailed Vestas Sailrocket 2 at 55.32 knots, or 63.6mph, on 18th November 2012.
24-hour distance record – This is currently 908 nautical miles – and is yet another record set by Pascal Bidé Bidégorry set the record on the Banque Populaire V, an offshore-racing boat, on 1st August 2009. His average speed was 

37.84 knots, or

43.55mph.
Around the world sailing records
In 1985, the Jules Verne Trophy was created as an award for the fastest circumnavigation of the world.
Originally, it was awarded to any yacht which sailed around the world in less than 80 days (the trophy is named in tribute to Jules Verne's Around the World in 80 Days).
Boats must complete the voyage by use of natural forces only – i.e. no engines – but boat or crew sizes are not restricted.
The starting points of the route are either the lighthouse on Ushant Island (France) or the lighthouse on Lizard (UK), depending on which direction you travel.
Here are the records for you to try and beat…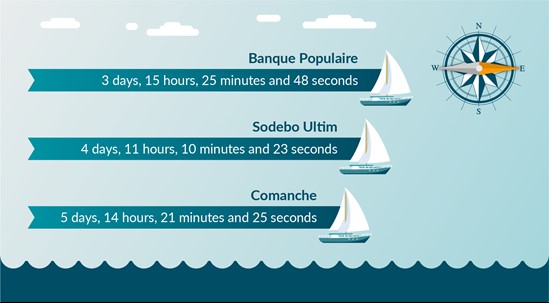 West to East
The current holder for a crewed yacht is Francis Joyon, who completed the route in 40 days, 23 hours, 30 minutes and 30 seconds. He set this record on his yacht IDEC Sport in January 2017.
The record for a single-handed multihull was set by François Gabart, who completed the route in 42 days 16 hours 40 minutes and 35 seconds, on his yacht Macif in December 2017.
The record for a single-handed monohull was Armel Le Cléac'h. Yes, the same man who also holds the single-handed East to West transatlantic sailing record above! Le Cléac'h completed this route in 74 days, 3 hours and 35 minutes on the monohull Banque Populaire VIII in January 2017.
East to West
The single-handed record for this route is held by Jean-Luc Van Den Heede. He completed the route in 122 days, 14 hours, 3 minutes and 49 seconds on the monohull Adrien in March 2004.
What do these sailing world records tell us?
That the French are very strong sailors and that sailing standards have soared in the last 10 years! Most of these records have been set by French navigators and have been broken post-2010. And who would bet against them being broken again in the next 10 years? Watch this space.