There are so many safety precautions to remember when heading out on the water with your paddle board, it seems almost impossible to not make at least one mistake.
No matter how much paddleboarding experience you have, it's always a good idea to check you're doing everything right. That's why we've compiled a list of common SUP mistakes that are (luckily) very easy to avoid once you're aware of them!
1. Hitting the water without paddle board insurance
You can take all the precautions in the world, but there will still be room for something to go wrong. Taking out paddle board insurance will give you the extra reassurance that you'll be protected if your board gets damaged or stolen or if you cause injury to another person or damage someone else's property whilst paddleboarding. After all, it's better to be safe than sorry!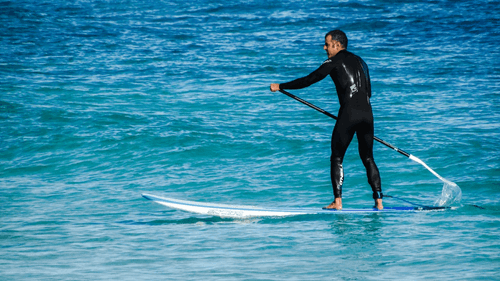 2. Not wearing a leash
Even the most experienced paddleboarders will know how easy it is to come off your board in a heartbeat. If you do find yourself in the water, a leash is the easiest way to make sure you'll always be able to get back to your board and not left vulnerable in the water.
A seemingly gentle breeze can carry a paddle board faster than you can swim after it – especially if it's an ISUP! Not only this but a loose board can be a hazard to others if you've been paddling in a busy area.

3. Not dressing correctly 
It's a nice sunny day without a cloud in the sky – surely you won't need to dress for getting wet? This is not true. Just because there may not be any rain or wind forecast doesn't mean you're not going to take an impromptu dip in the water!
This means you should always dress with the expectation that you'll be going in the water at some point – even if you're extremely confident. Clothes that aren't made for the wet will absorb water and make you feel very cold very quickly, even on a hot day.
4. Being unaware of your environment 
Will there be large waves? Are there shallow patches? Is there boat traffic? These things – as well as a lot more – are all things you should be considering before you SUP.
Don't paddle somewhere new without researching it first, and if somewhere sounds particularly unpredictable, go out with an experienced guide for your first trip.
5. Having no way to call for help
If you're out on the open water alone and run into some trouble, shouting for help with your voice won't get you very far! Something as simple as a whistle will travel a lot further than your voice would do - three long whistle blasts is a universal signal for help/emergency.
Having your mobile phone with you – in a waterproof case of course – is never a bad idea either. Even if nothing happens, knowing it's there will put your mind at rest.
6. Not telling someone when and where you're going
Always tell others where you're going. Whether this is a family member or fellow paddleboarder, make sure to tell them where you're planning on going and how long you plan on being gone.
This way, if something goes wrong while out on the water, they can raise the alarm if they get worried when you're not back on time, and help can get to you if you need it. Make sure to communicate to your shoreside contact if you're going to be back late – you don't want a fleet of lifeboats turning up to save you if you've just lost track of time!
7. Getting caught out in the sun
There's not much shade out in the water and on top of that, the sun's harmful rays reflect off the water's surface and onto you. Always make sure your exposed areas are covered in sun cream that's at least factor 15 and, if you do get wet, be sure to reapply.
It's also very easy to get dehydrated when you're paddleboarding – you're in the sun and you're working hard. A water bladder attached to your board is a great way to carry enough water for a summer's day.
We hope you found this useful! Remember, with the best will in the world things can still go wrong, so be sure to take out Specialist Paddle Board Insurance to avoid needless worries while you SUP.