Not much beats the exhilarating sense of adventure you get from living on a narrowboat, as 12-year-old Emma Wright can attest to.
In fact, Emma enjoys the thrill of living on a narrowboat so much, she's set up a YouTube account under the alias Narrowboat Girl which documents her on-board experiences.
Emma and her mother made the move from four-bed house to narrowboat last year – and it's safe to say Emma hasn't looked back since.
Over the last 12 months, she has posted over 100 videos to her YouTube account, which has amassed more than 3,000 subscribers.
We spoke to Emma to find out what she most enjoys about life on the water and the challenges she's overcome along the way.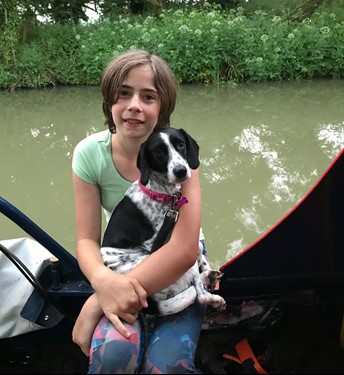 The cosiness
When we lived in the house, it was really spacious and echoey, but living on a narrowboat is completely different.
It's much cosier on a narrowboat – you're either really hot or really chilly, there's never an in-between!
When we were on the narrowboat in winter, we could get a fire going, huddle up and watch TV. I didn't get the same feeling of cosiness when we did this in the house, because the rooms were much bigger.
You sometimes need a lot of coal to keep you warm in a narrowboat, but it's worth it to get a good fire going!
The scenery
I've seen some incredible scenery and been to so many amazing places since living on a narrowboat.
Our first mooring was on the outskirts of Devizes in Wiltshire. It was in the middle of nowhere, but it was great because there was hardly anybody there and the sunsets in summer were amazing.
Hungerford is really pretty and one of my favourite places that I've explored on the narrowboat. I even saw a kingfisher there, which was a memorable experience because I'd never seen one before!
Thrupp in Oxford was so beautiful in autumn, with the leaves falling off the trees and all the different colours.
Pangbourne Meadow is another one of my favourite moorings, because it had a wide towpath and it was nice and quiet.
The interaction with wildlife
I've bonded with all kinds of wildlife. We stayed in the Top Lock in Devizes for quite a long time and when I was there, I saw swans, ducks, baby moorhens and Canadian geese.
If you become friends with the swans, they tap on your boat when they want to be fed. We get swans tapping on our boat at seven in the morning to wake us up and sometimes they tap through the night. They even follow you through the boat when you're walking!
I've become so fond of the swans that I've given them their own names – I call them Cabbage and Bean.
I know to people who don't live on a narrowboat some of this might sound strange, but it's great to have such a close connection with the wildlife and to have extra companions. 
The sense of community
The boating community is very friendly and fantastic at helping each other. You sometimes meet some grumpy people, but thankfully it's very rare!
One of the narrowboaters who lives near us has a car and so he drives us to the shop to pick up supplies. He also takes our rubbish, looks after the laundry and he's generally happy to help.
We also had a lock buddy who we travelled with for a few weeks. He taught me some really useful skills, such as how to chop wood.
The boating community is also very good at responding to difficult situations. One lady in our mooring had a bad fall, hurt her ankle and the other boaters rushed to help her, got the ambulance out and looked after her boat and pets.
In the house, we used to get the odd bit of help from people on our street, but since living on a narrowboat we've definitely felt a greater sense of community.
The independence
Being independent is one of the best things about living on a narrowboat. If we need to do our shopping, we're always near a town, but then we can also go to the middle of nowhere for a couple of days.
You can just stay there, chill and take the dogs for nice walks. Also, the Internet is good in these places which is a bonus!
The quieter spots are perfect for spending time together (and not annoying people with our dogs!). There isn't noisy traffic and there are no street lights, so you can see how light the sky actually is at night. It's amazing!
The adventure
There's a real sense of adventure that comes with narrowboating, particularly during the winter months.
For most of the year, the busy moorings in towns and cities are 48 hour stays and we'll stay in the more long-term moorings for around 14 days.
However, most of the busy moorings which would be 48 hour stays during the busier months of the year turn into 14 days between November and March.
This means that, instead of only having two days to explore certain places, I have a bit longer to explore them. I'm always wondering which town, city or village I'll go to next and that's an amazing feeling.
The Thames was one of my favourite adventures. We were in this tiny narrowboat surrounded by all these expensive cruisers and strong currents. It was stressful at times, but also very fun and interesting!
The sense of togetherness
There's a lot of teamwork involved in living on a narrowboat. From getting the coal in to tying up the boat, there are a variety of jobs we'll do together.
We had some practice of working as a team when we moved out of the four-bedroom house, as we had to move a lot of furniture and swivel around corners! Co-ordination is even more important on a narrowboat, because there's less space to move around.
You have to co-operate with each other a bit more when you're on a narrowboat. If I get mad at my mum, I can't just run up to my room and stay in there all day!
It's quite funny when we come to moor. It's a bit like when you're in a car and you're trying to pick a parking space – we sometimes row over where we should leave the boat and can end up shouting at each other, but we get over it pretty quickly.
It's important to have that sense of togetherness if you're going to live in close quarters with someone.
The self sufficiency
I have a few chores on the narrowboat – I help with maintenance, I check the oil and water levels when we go cruising, I do engine checks – and they've helped me learn a lot. I still have lots more to learn about maintenance, but I'm getting there!
We constantly keep an eye on our battery levels, which has helped me be more mindful about how much I use certain devices. For instance, I can't just plug in my phone or laptop whenever I want.
I've also learnt how to film, edit and upload videos to YouTube, which not a lot of 12-year-olds can say! I've been lucky in that I've had time to learn these skills because I'm home-schooled.
It's nice to mix the more traditional way of living with a modern way of thinking when it comes to technology, and how I can use it for my content.
We hope you enjoyed reading Emma's insights about what it's like living on a narrowboat! Keep your eyes peeled for future interviews with Emma, where we find out how she mixes narrowboating with her studies, her favourite canal routes and more. You can check out more of Emma's amazing videos and support her in creating more content by clicking on the links below.
YouTube: https://bit.ly/2FGYMoh
Twitter: https://bit.ly/2YGsliw
Facebook: https://bit.ly/2uAyUFw
Patreon: https://bit.ly/2FNYGeL
PayPal: https://bit.ly/2I4nzFC