Thinking of living aboard, but want to learn more about narrowboat fuel consumption first? 
We don't blame you. The rising energy bills here in the UK are enough to tempt anyone to ditch their house for a life on the canals. But how much fuel do narrowboats use, and how much does it cost? 
Here you'll find everything you need to know, from the average narrowboat fuel consumption to how much it's likely to cost you per year. 
We've even spoken to Heidi Manning, otherwise known as The Narrowboat Pirate, to find out how this looks in reality. Keep reading for a full annual breakdown of her narrowboat fuel costs!
How much fuel does a narrowboat use?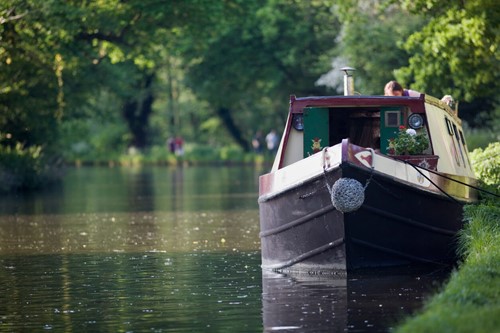 The average hourly narrowboat fuel consumption in the UK when cruising is around 1-1.5 litres. 
This figure reflects diesel only, which is the main fuel used for propulsion when your boat is on the move. Other forms of fuel can be used for heating and appliances, such as coal, gas, or wood. 
Many factors can affect your overall narrowboat fuel consumption, so it's important to make your estimation and budget based on them. These include:
the size of your narrowboat 
the size of its tank (typically 200 litres)
how often you travel in your boat 
the cost of diesel per litre from your chosen provider 
As you can see, the process is like working out a car's fuel consumption. 
But there are still two main factors specific to narrowboats that affect fuel consumption, such as whether you:
have permanent moorings 
are a continuous cruiser (most common) 
Since those who have permanent or long-term moorings are travelling a lot less in their narrowboat, they typically use much less fuel than those cruising the canal network daily or weekly.  
Narrowboat fuel costs 
Now you know the factors that impact narrowboat fuel consumption, how about the cost of diesel and other forms of fuel?  
The truth is it's difficult to pinpoint an average narrowboat fuel cost, as it depends on:
the desired lifestyle of the individual looking into living aboard 
the boat they're looking to purchase
whether they use solar panels or other forms of heating
where they purchase their diesel 
As with petrol, diesel prices change each year, but the average cost per litre as of 2022 is 75p-£1.05. 
It's common knowledge amongst narrowboaters that boatyards and marinas typically charge more for diesel than fuel boats dotted along with the canal network. This is something to keep in mind, as purchasing it from the right seller could cut your yearly costs. 
To give a quick example of the difference the diesel rate makes, say you'll be cruising for 4 hours per day over 2 weeks. 
If you go with a rate of 75p/litre, and your boat's average hourly fuel consumption is around 1 litre, you'll spend approx. £42 overall for diesel.
If you go with a rate of £1.05/litre, you'll spend approx. £58.80. 
Working out how many litres you'll be using each week/month is impossible without knowing the ins and outs of your planned lifestyle. But what we can do is give you a real example of an annual fuel cost breakdown from a popular narrowboat YouTuber Heidi Manning. 
Hopefully, you can get an idea of the yearly costs of fuelling a narrowboat vs your energy bills at home. 
Heidi Manning: narrowboat fuel costs in 2021
"I'm a continuous cruiser and run a business from my boat and trade at various canal events and festivals across the country, which keeps me on the move. 
I don't have a home mooring, so I spend my winters on the cut. I'm lucky enough to generate most of my power needs from the sun from April to October via my 600 watts of solar and regular cruising. 
Still, during the winter, I often must run my engine or generator stationary to create additional power as the sun is too low in the sky to provide me with decent solar for my power needs. 
I run two multi-fuel stoves on my narrowboat. One in the main cabin and a smaller stove in the boatman's cabin. I run the main cabin fire 24/7 between Oct and March and the boatman's cabin fire just when it's very cold between December and February to keep the back cabin warm.
I gather my own kindling and additional wood from the towpath on my travels.
I don't like being cold, so I keep my fire topped up throughout the day as there is nothing worse than returning from a walk to a cold boat which then takes ages to warm back up.
I could save a lot of money if I foraged more wood, but it takes up a lot of space to store and burns quickly, whereas smokeless briquettes stay smouldering away slowly for hours.
My total costs last year for diesel (propulsion and to generate power during the winter when not moving as far and as often):
- Diesel: £664
- Smokeless coal: £820
Both diesel and smokeless coal have recently gone up, so I dread next year's costs.
If you want to know gas costs too, I have a micro instant water heater, very much like a combi boiler in a house, so there is always constant hot water for showers and washing up. One gas bottle lasts about 6-7 weeks, and I use around 8 per year.
Eight gas bottles at approx. £35 = £280 per year."
This brings Heidi's total fuel cost for 2021 up to £1,764. 
Since the average household's annual energy bill in the UK is £1,163 for a medium house, and the average annual cost of fuel for a car is £1,272, this isn't bad for a continuous cruiser. 
Heidi saves around £671 per year on fuel compared to those who live in houses here in the UK. 
Looking to purchase a narrowboat now you know how much you could save? Now is the perfect time with summer on the horizon. 
But before you hit the canals, you need to make sure you have the right insurance. 
At Insure4Sport, our specialist narrowboat insurance protects your boat against theft, accidental damage, malicious damage, and salvage charges. 
We also provide £3m Public Liability cover with each policy to protect you if you cause damage to another boat. 
Click on the button below to learn more about how we can help and get an instant online quote today.