If you've ever wanted to explore the wonders of the Welsh countryside, taking a narrowboat holiday is one of the best options. From impressive aqueducts to watersports, Wales has all the ingredients of a memorable holiday.
Want to see for yourself what the glorious Welsh canals have to offer? We've got it covered. Here are some of the best narrowboat holidays in Wales.
Shropshire Union Canal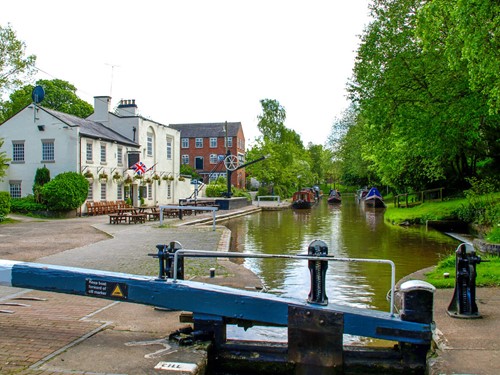 The Shropshire Union Canal is a 66.5-mile long waterway which connects to the Llangollen Canal. It's a quiet and isolated waterway, making it the ideal destination for anyone looking to escape the hustle and bustle of urban life.
This canal is a great place to visit if you want to enjoy a spot of fishing while relaxing on the waterways. If you're a fan of watersports, it's also a great location for canoeing and paddle boarding.
Llangollen Canal
The Llangollen Canal is an ideal holiday destination, whether you want a short break or week-long holiday. With sights including the 126ft high Pontcysyllte Aqueduct, there's plenty to take in and explore.
If you consider yourself a beginner when it comes to narrowboat sailing, Llangollen Canal is perfect for you. The stretch of water from the Chirk Aqueduct to the town of Chirk is a long stretch of the waterway that doesn't have any locks. This means that beginners can sail for long periods without feeling stressed or anxious.
This canal is also great for anyone who wants to take a gentle country walk. You can take a six-mile walk from Horseshoe Falls to Llangollen, where you can take in the amazing Welsh landscape.
The town of Llangollen itself is only a short walk from the canal moorings and has plenty to offer. There is a steam railway in the town which runs along the River Dee and is a must-visit for history buffs wanting to learn more about Victorian era railway innovations.
Monmouthshire and Brecon Canal
The Monmouthshire and Brecon Canal is the perfect holiday destination for nature lovers, thanks to its wide range of wildlife including moorhens and kingfishers.
Like the Llangollen Canal, this canal's charm lies in its solitude. It has no connection to any other waterway so it's the perfect destination for someone looking to get away from it all. There are plenty of opportunities along the canal for long country walks and a wide range of outdoor activities.
Brecon Basin is a particular highlight on the canal route. A large section of the waterway takes you through the Brecon Beacons National Park, which offers some wonderful natural sights and surroundings.
The Middlewich Branch
The Middlewich Branch is part of the Shropshire Union Canal. It runs from Middlewich, where it connects to the Trent and Mersey Canal, to Barbridge Junction, where it connects to the Shropshire Union Canal. This branch is 10 miles long and is one of the most impressive areas on this canal route.
The historic town of Middlewich is a standout feature of this branch. It makes for a great day out, with must-see tourist attractions including the Roman theatre and 19th century church. There are also ample opportunities to take a long walk down the canalside, or cycle down the towpath.
Before you head out on your next narrowboat holiday, it's important to make sure you have the correct insurance. With our specialist narrowboat insurance, you can make sure your boat is fully protected against theft or accidental damage. Get a quote today so you can hit the Welsh waterways without any worries.