You'd be surprised by how much you can do to transform your narrowboat's look and feel. We speak to Mark Steadman, founder of narrowboat design consultancy The Fit Out Pontoon, to get his top tips for narrowboat owners.
Layout
We always start by looking at the layout and we ask our customers a series of questions to determine the best layout for their narrowboat. For instance, how are they going to use the boat and what's it being used for? 
We need to know how many people are going to be on the boat at any one time and whether anyone is going to be living on the boat. That gives us a real indication of the layout we should go with.
I could probably ask somebody 10 questions and have a fixed layout in my mind based on their responses. Some of the main things I'll ask include:
What type of bed do you want?
What sort of toilet do you want?
What equipment are you putting on the boat?
Is it a liveaboard or leisure narrowboat?
Once I know all of this, the layout starts to take shape.
Generally, you can't go too "outside the box" on the layout because of a narrowboat's space constraints. You can be creative with the design, but the layout needs to be logical.
Windows
When we're working with a new narrowboat, we start with the layout and then add the windows to the layout. If it's a refit, we'll start with the windows and design the boat around them.
In terms of window design, portholes throughout a narrowboat are never a good thing, especially if you're looking to sell it.
A lot of people say it's safer to have portholes. But, if someone is trying to break into your boat, they'll find a way, whether you've got portholes or not. This is why you pay for insurance.
Ultimately, you've got to ask yourself whether you want to compromise the light that comes into your boat in order to make it harder to climb through.
That's not to say you shouldn't have portholes anywhere on the boat. You'd most likely have them in the bedroom and bathroom, whereas you'd have rectangular windows in the galley and saloon. The rectangular windows generally have mitered tops and radius bottoms, with a black polished aluminium and brass finish.
In terms of glazing, if you're going to go for double-glazed windows, it's a no-brainer to have a thermal break frame.
Although a double-glazed window prevents condensation on the inside, the frames will still condensate. The water will run down the side of the frame and if you've got a window liner that's solid oak, over time the oak will turn black. Therefore, if you're forking out for double-glazed windows, you might as well pay a little extra for a thermal break frame to prevent this from happening.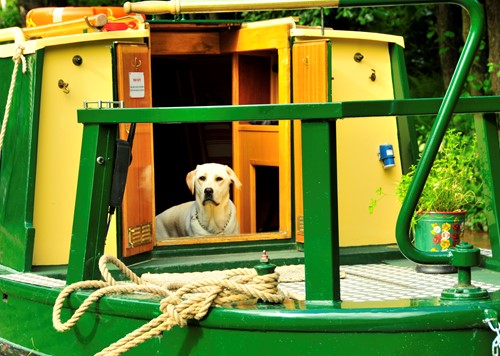 Space
It's important to strike a balance when it comes to space. Most people do a rough drawing of what they want to go where, but you can make anything work on this kind of drawing.
Some clients with children want a toilet at the back of the boat so that the children don't have to walk through the boat to use the toilet. However, they lose 15 feet of space from doing this. Is it worth losing this much space just to have a toilet at the back of a boat?
Another common thing I hear from customers is that they don't want 'a caravan on water' – meaning they want loads of storage space. That's fine, and we can design a beautiful boat that's got absolutely loads of space, but then you've got nowhere to put anything, so it falls at the first hurdle.
You need to make subtle changes that achieve a balance between look, feel and practicality. One thing we're seeing is a move towards L-shaped dinettes which can double up as both a sofa and eating area.
Less people are opting for traditional dinettes because they're not space-saving. It's extremely difficult to get a dinette and two captain's chairs in a 57-foot narrowboat.
An L-shaped dinette becomes part of the saloon, whereas a dinette with two benches opposite each other segregates off from the room. By having an L-shaped dinette, you're essentially saving two feet of space. This doesn't sound like a lot, but two feet is a lot on a narrowboat.
More: 7 Clever and Creative Narrowboat Storage Solutions
Flooring
Narrowboat owners have traditionally gone for carpets, but this poses obvious problems if you're out on the towpath and it's muddy.
That's why more people are opting for vinyl flooring. Not only is it easier to clean, you can go for different looks across your boat and it can look great if you make your selections carefully.
There are two types of vinyl flooring – click and gluedown. Click flooring is fitted as a floating floor, whereas gluedown flooring is laid down using a contact adhesive.
The challenge with laying down flooring using a contact adhesive is that if the boat moves, you'll end up with gaps between the planks or tiles. You could lay it down in the winter and it'll look perfect, but in the summer it'll expand and you'll have 1mm gaps.
That's why I personally prefer click flooring. Not only is it quick and easy to install, it creates an expansion gap all the way round the side of the boat so that the floor can move more freely than a gluedown floor.
That's not to say that I wouldn't advocate gluedown flooring at all. If you use 25mm plywood for a sub-floor, this gives you a much more substantial board which takes considerable force to expand and move.
Colours
Most narrowboats consist of oak panels below gunnels, white panels with an oak trim above gunnels and a white or cream ceiling. White and cream have traditionally been the colours of choice among narrowboaters and we're now seeing light grey becoming increasingly popular.
Narrowboaters should be careful throwing loads of colours at their boat, because this could really overpower it and you're dealing with a very small space.
Keeping it bright is most important – this will create a more spacious feel and you can add colours through items like pillows and curtains.
You could have tiles behind a fireplace which are a certain colour if you wanted a bit of contrast. There are also stoves on the market which can be customised by colour – so if you had white and oak panels, you could have a stove with a black body and then customise the top and bottom door colours. There are lots of great manufacturers out there and lots of options available.
Creating warmth
You want to consider warmth when you're designing your narrowboat. For example, a walk-through bathroom with two doors shut prevents the heat from travelling to the other side of the boat.
However, there are various ways to keep your narrowboat warm during winter, depending on its usage.
If you're in a marina with working electrics, you can have an electric blanket, which is great, or you can also use a blow heater. If you live on a canal without electric, you would go for a coal fire or log burning stove. In fact, if it's a bigger boat, you could put a tiny stove in your bedroom.
Most narrowboats we design have coal fires and log burners. If you've got the right fire and it stays on, you shouldn't ever feel cold. In my boat, the fire rarely goes out from October until April and I have a hot water bottle. I'm quite old school in that sense. 
Curtains or blinds?
From my perspective, I prefer Venetian blinds to curtains, but there are pros and cons to both.
On the one hand, curtains make the boat feel cosy, but on the other hand they are quite bulky on the sides of the boat, which can make it feel smaller.
By contrast, Venetian blinds are quite flat to the side and less intrusive. When you're on a towpath, you can angle them so that you can see out but nobody else can look in. You can therefore retain a sense of privacy without having to completely shut yourself off from the outside world, as would be the case with curtains.
The downside of Venetian blinds is that, because they're angled, you'd need to purchase strainer wires for them to run along. They also gather dust, which you'd need to keep an eye out for.
It just depends which compromise you want to make. Do you want more privacy, more cosiness and less cleaning time, or do you want more practicality, more space and a more modern feel to your boat? It's a matter of personal preference.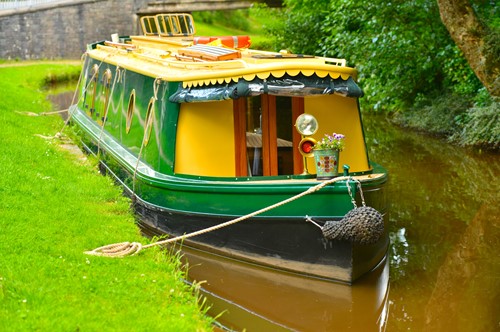 The bedroom
If you're not using the front as an exit, the bedroom is the place on a narrowboat you could lay down a bit of carpet, because you don't have to worry about it getting dirty.
Going back to space, you could have an enclosed bow at the front of the narrowboat. If this is the case, you can't get out of the front, meaning you can put a bed right across. The benefit of this is you get a big bed, which is difficult on a narrowboat.
You're basically gaining 3 or 4 feet on the boat by having an enclosed bow, which can go towards bedroom space.
Having an enclosed bow can be viewed as either an advantage or disadvantage, depending on usage. If you're a liveaboard narrowboater it's great, but if you're a leisure narrowboater entertaining guests and you want people sat at the front while you're cruising, an enclosed bow doesn't lend itself to this. You just have to decide how much bedroom space you've got to work with.
I don't like beds that run down the length of the cabin, because there's not much room to shimmy forward and you end up having to climb over the person you're sleeping next to, which isn't exactly ideal.
In my boat, I've left a couple of foot at the end of the bed so that I can comfortably get in and out. It's a question of whether you can afford to lose two foot of space, but if you can then it's a handy tip. An adjustment like this can give your narrowboat a lot more breathing space.
The bathroom
There are two main types of bathroom – a walk-through bathroom and a corridor bathroom. Most bathrooms are 6' to 6'6" - you won't get bathrooms smaller than that.
If you go for a walk-through bathroom, you need to consider whether you want central doors or doors going from one side of the boat to the other.
This will generally be influenced by the bed's position. For instance, if you want a bed going down the length of the boat, you can't have a walk-through bedroom with a centre door, because the bed will be in the way.
The biggest thing narrowboaters underestimate when designing a bathroom is the space you lose from the roof. You could put a shower right to the edge of the boat when it's a rectangular shape and think it'll fit, but it won't fit because you've got to factor in the cabin sides as well.
Lights
Most narrowboat lights nowadays are LED. There's no point in having anything else because LEDs are so low-power that they're perfect for cruising. You can also get them in a range of colours, whether you want chrome, black or satin. The possibilities are endless.
Where you put your lights depends on your ceiling's design. You might have an oak panel in the centre of the ceiling and you could add your lights to the panel, or you could put them either side of the panel.
I would advise putting them down the sides of the panel. By doing this, you can position them above the kitchen sink and you won't get a shadow effect over the sink and worktops as you would if they were in the centre panel.
When we design in planned view, the lighting is positioned in zones and we work around the equipment. For instance, in a galley we might put one light in the middle over the sink and one to either side and then set that spacing throughout the lounge. 
Bedazzled and Atom are the major suppliers of LED lights for narrowboats and are the main specialists I'd recommend.
My final piece of advice for narrowboaters is, be mindful of the wiring when fitting your lights. If you put too powerful a light on too thin a wire, the wire could melt and this could cause a fire. The wiring needs to be relative to the length of the room and the power of your unit or appliance.