Paddleboarding has risen from the depths of the unknown to become the world's fastest growing water sport. While for some water sports, you might have to travel to an exotic location to try them, the popularity of paddleboarding means that you can enjoy it at stunning locations a lot closer to home.
You'd be forgiven for thinking that the South West and the Lake District hold a monopoly on SUP (stand up paddleboarding) spots. In fact, there are actually places to paddle board all over the UK. We thought we'd scour the South East and pick out its best paddleboarding locations.
Cuckmere Meanders, East Sussex
Seaford, BN25 4AD
This spot is perfect if relaxed paddling is your thing. The Meanders are incredibly calm since they're unaffected by tides and currents due to being cut off from the main river and sea. You can easily drive right up to the water's edge and get paddling.
For added adventure, you can paddle all the way to the beach - with a few stops to carry your board between oxbow lakes – within an hour. Once you've taken in the stunning views of Cuckmere Haven, you can make your way back and enjoy only the sound of water beneath your board.
Read more: 5 Exercises To Perfect Your Paddleboarding Technique
Brighton, East Sussex
Brighton, BN2 1ET
As one of the South East's most popular seaside destinations, Brighton needs no introduction – so it's hardly surprising that it has made our list.
Brighton's seafront is world-famous, and you can view its colourful beach huts and iconic pier right from your trusty paddle board. After you've got your SUP fix, there's no shortage of places to refuel, but we think some good old-fashioned fish and chips will go down a treat!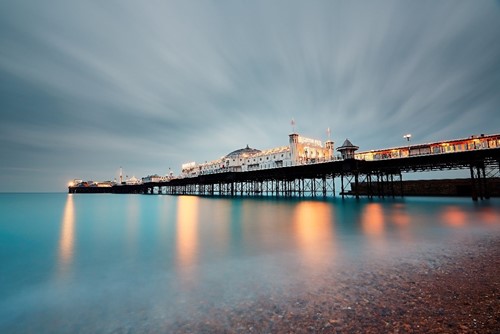 Viking Bay, East Kent
Broadstairs, CT10 1NB
This beautiful horseshoe-shaped bay is Broadstairs' main attraction, and with its cliff top promenade and rolling sandy bay, it's easy to see why. It was even the favourite holiday destination for Charles Dickens himself – so it's certainly good enough for us.
If you'd prefer some company while you paddle, Kent Surf School runs guided tours that explore Broadstairs' picturesque coast. We're sure Dickens would've loved paddle boarding if he were around today!
Read more: 7 Most Picturesque Places to Paddle Board in the UK
Freshwater Bay, Isle of White
Freshwater, PO40 9QY
The Isle of White's striking and dramatic coastlines have attracted water sports enthusiasts for some time now. Freshwater Bay is amongst one of the most beautiful spots in the Isle of White, and with chalk cliffs and a pebbled beach, there'll be loads to take in as you float along.
SUP at this location and you'll be following in the footsteps of smugglers, who used the chalk cliffs caves – that are only exposed at low tide - to hide their smuggled goods!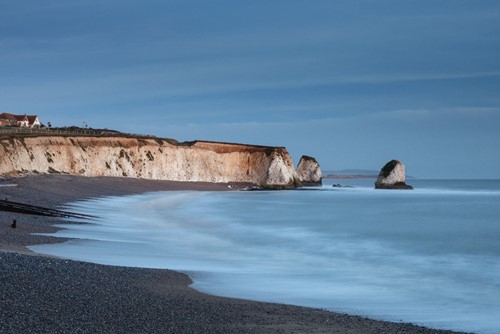 Bewl Water, Tunbridge
Bewlbridge Ln, Tunbridge Wells TN3 8JH
Set in the idyllic countryside of the Kent and Sussex border, Bewl Water is the longest stretch of open water in the South East and is certainly worth taking your SUP to.
With sailing, canoeing and rowing all popular on the reservoir, you won't be short of company - but don't worry there's plenty of room for everyone! If you do decide to give this spot a try, make sure you've got your paddle board insurance sorted, as Bewl Water Estate Office insist on paddleboarders having Third Party Liability Insurance.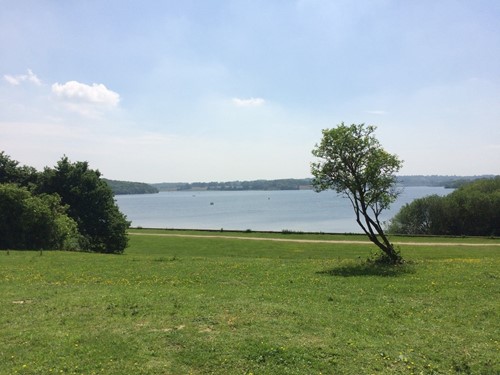 Read more: 7 Paddleboarding Mistakes That Are Easy To Avoid
River Hamble, Southampton 
Sarisbury Green, Southampton SO31 7ZN
The River Hamble is internationally famous for its sailing and has been a boat and yacht building centre for centuries, but has recently become a SUP hotspot since the sport's popularity has risen.
If wildlife is your thing, you won't be let down as the river is also an important site for nature conservation and is a birdwatcher's paradise. WeSUP offers a variety of guided tours up and down the river, with one of their most popular being a two-hour paddle of the river followed by two hours in one of the waterside pubs. Is there a better way to spend the day? 
Langstone Harbour, Portsmouth
Eastern Rd, Portsmouth PO3 5LY
Langstone Harbour lies between Portsmouth Harbour and Chichester Harbour and, as with the River Hamble, this is also an ideal location for nature enthusiasts. It attracts an array of birds and, if you're lucky, you might even spot a seal or two while you're paddling along.
If you're unfamiliar with the area, Portsmouth Watersports Centre provides beginners and advanced guided tours around the harbour, with some of the adventures even making time for a wood-fired pizza stop!
Did any of these South Eastern paddleboarding locations take your fancy? If they did, make sure to take out Specialist Paddle Board Insurance so you can take in the scenic views without unnecessary worries.