Boats were initially named so they could be told apart in a harbour and over time became an affectionate tradition steeped in superstition. We even 'christen' our boats and it's considered bad luck to change their name. So it goes, every boat's name is logged in Poseidon's Ledger of the Deep - to avoid defying the gods, all trace of their former identity must be purged upon a name-change.
Unlike other forms of transport, boats are given names beyond their manufacturer and model by their owners, which tends to reflect a more personal meaning. Naming a boat can reveal personality traits, aspirations, or cultural interests. With this, we might be able to glean some insight into why boat owners name their boats what they do.
We've analysed all 6,000 boats registered on our system to find out the psychology behind boat names.
Most common themes
We found that boat names fell into one or more of the below themes with the following frequency: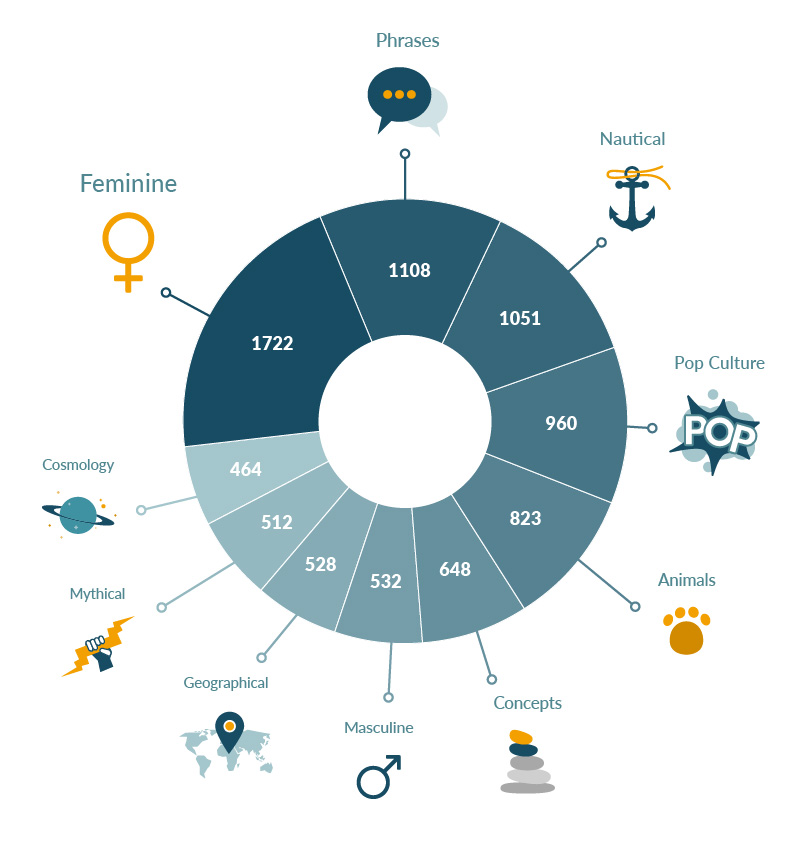 Most common names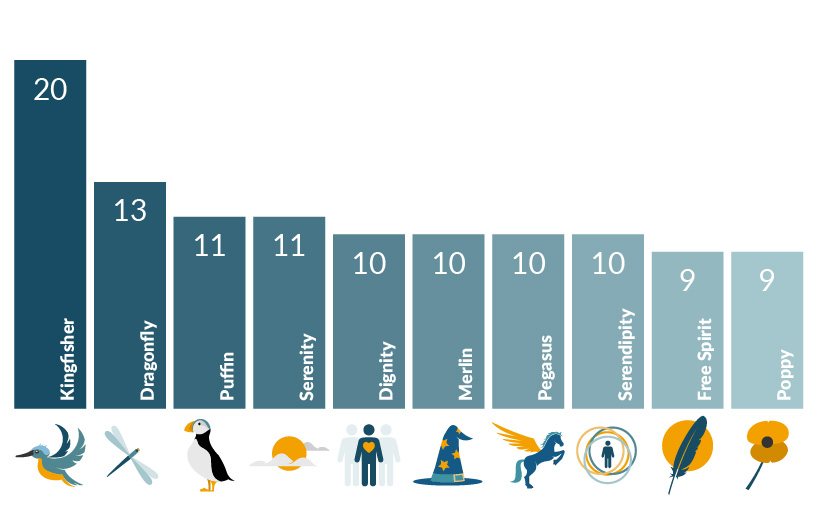 The most common boat name is Kingfisher according to our data. This is followed closely by Dragonfly and Puffin, which are also flying creatures of the natural world.
Interestingly, despite boats being aquatic vessels, birds make up close to 40% of all animals referenced in boat names. This is nearly three times as frequently as sea creatures and aquatic mammals combined, implying that a sense of freedom is more central to the boating mentality than the water their boat floats on. 
Lets look at some of the most common themes behind boat names in more detail.
Literature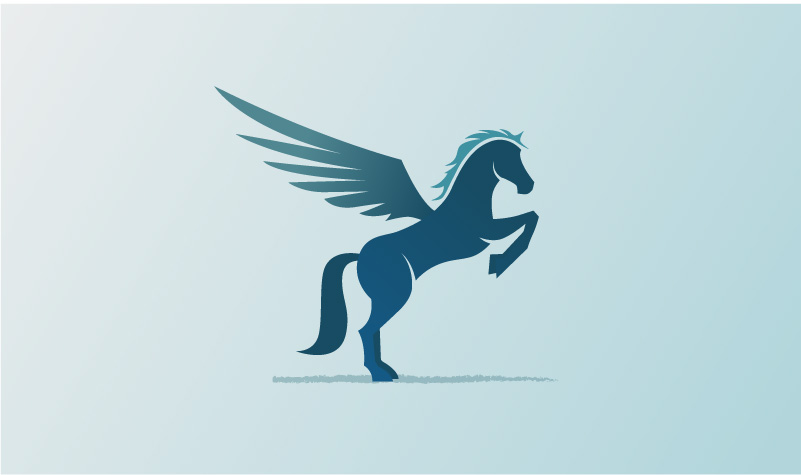 Most common
Merlin - 10
Pegasus - 10
Tarka - 7
Willow - 7
Catch 22 - 4
Notable mentions: Lilliput, Sirius, Ulysses, Phileas Fogg, Aragorn
Literary references make up the largest portion of pop culture references in boat names, above film, music, TV and art.
The most common literary reference is tied between the wizard Merlin of Arthurian Legend and Pegasus of Greek mythology. This might hint that the average UK boat owner is interested in folklore and national history, and tend to regard their boat with reverence, pride and gravitas.
This is congruent with the significant number of classical references too (Latin, mythology, royalty/titles, cosmology, conceptual and to a lesser extent military). It's worth noting that boats in ancient times were named for gods and saints to bring good luck at sea.
Music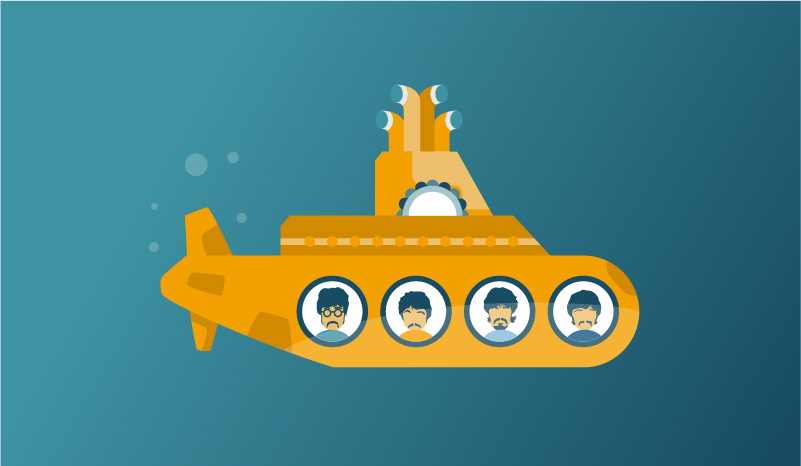 Most common
Harmony - 7
Foxy Lady - 5
Imagine - 5
Nirvana - 5
Eleanor - 4
Notable mentions: All You Need Is Love, Daydream Believer, Handbags and Gladrags, Moonriver, Foxy Lady
Music is a cornerstone cultural interest reflected in boat names. After literary references, it's the most common field of pop culture reference. It runs the gamut of Beatles' trivia, with a number of boats named Sergeant Pepper, Strawberry Fields, Hey Jude and Eleanor Rigby. Several other British giants make cameos as well – David Bowie (Ziggy Stardust), Queen (Fat Bottomed Girl, Kind of Magic), Kate Bush (Babooshka) and Genesis (Genesis).
Films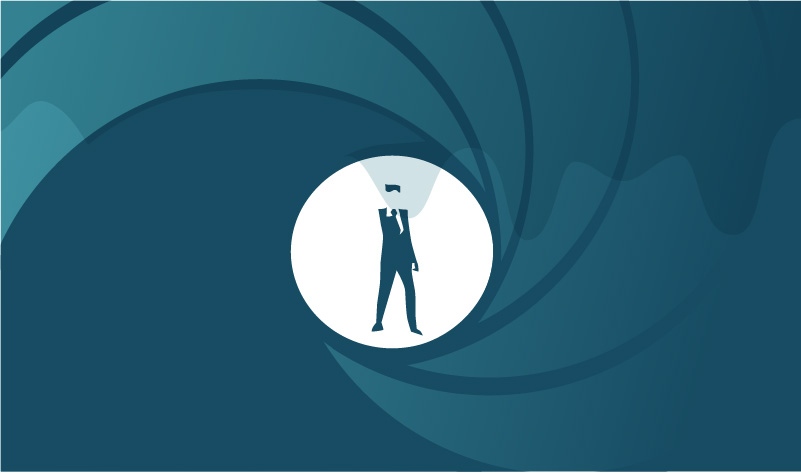 Most common
Willow - 7
Black Pearl - 6
Enterprise - 4
Footloose - 4
Maverick - 4
Notable mentions: Footloose, Cool Runnings, Rambo, The Omen, Polk Fiction
As for films, Disney take the lion's share to invoke a sense of fantasy overall (9% of total film references), but Pirates of the Caribbean are the single most referenced franchise in the pool (5% of all film references), particularly to the ship the Black Pearl. It seems films really capture a boat owner's imagination, whether they're naming a sailboat or narrowboat.
Close behind are hints to the charm and allure of James Bond (4% of all film references), with Moneypenny, Octopussy and Moonraker emerging as the most common references.
TV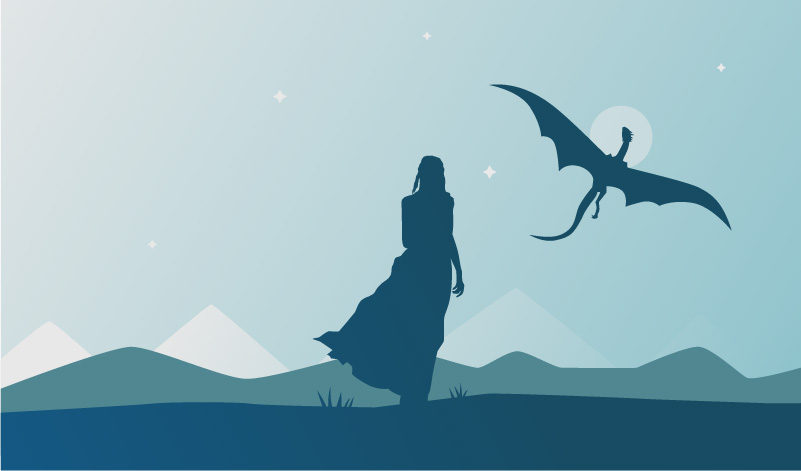 Most common
Happy Days - 6
Enterprise - 4
Sabrina - 4
Betty Boop - 3
Khaleesi - 3
Notable mentions: Squidward 2, Pikachu, Pwllheli Five-0, Wilma, Smurfs Up
Most references to Star Trek were to the ship The Enterprise and most references to Game of Thrones were to the dragon-queen herself, Khaleesi.
TV accounts for around 10% of all pop culture references and a third of those are isolated references such as the notable mentions above.
Gender

Most common
Poppy - 9
Misty - 8
Ruby - 8
Aurora - 7
Daisy - 7
Notable mentions: Highland Lass, Lady Guinevere, Maisie Mog, Moonlight Lady, Freya
It's thought boats are customarily referred to in the feminine form as a result of gendered European languages dictating parlance during the Age of Sail. The thinking is that this persisted in translation and was then absorbed into tradition in modern times (26% of all boat names). It could also speak to the higher emotional sensibility of boat owners, as gendering a boat humanises it, implying emotional attachment and moral care.
Elegance and Colour

Most common
Ruby - 8
Misty Blue - 6
Sapphire - 6
Black Pig - 4
Blue Mist - 4
Notable mentions: Blue Mist, Blue Sapphire, Bluebell, Blue Dolphin, Blue Lagoon
Feeding into the gentler conceptual boat names and more elegant names of goddesses, flowers and precious stones, as well as the tranquil colour blue, boat owners are able to convey a sense of sophistication, openness and sensitivity. We always knew sailors were a little more poetic and romantic than your average landlubber.
Humour and Wildcards

Most common
Hunky Dory - 5
Aquaholic - 4
Bob - 4
Bass Hunter - 3
Scooby - 3
Notable mentions: Duck Vader, Ringo Steer, Nauti Buoy, Cod Father, Bass Hunter
We found that puns and wordplay make up the large majority of humorous references, typically combining the nautical theme of boating with pop culture references or idioms.
We also discovered a motorboat named Stormzy and much to our delight, a motorboat its owner committed to naming Boaty McBoatFace.
Nearly 20% of all humorous boat names could be described as subversive, i.e., a name that undermines the status of the boat. Some honourable mentions are Bankrupt, Detritus, Maggots, Overdraft and Hobo IV.
This emergence of more tongue-in-cheek boat names has become a modern theme and might have been considered irreverent or bad luck in days of old. What's likely to have begun as a subversion of boating tropes has now, quite ironically, become one of its own.
Ultimately, a boat name is an avatar for the owner's identity and as such it allows them to choose how they'd like to be perceived, be it dignified, whimsical, witty, or literary – and so close is fandom to identity, the same motivations are likely to guide pop culture references.
Methodology
- Boat names were permitted to fall into multiple themes.
- Which categories we deemed boat names to fall into were judged with indiscriminate criteria – we can only speculate on a boat owner's intent for naming their boat so our own interpretations allow for any reference incidental or deliberate.
Taxonomy
Feminine – also encompasses any female gendered titles or allusions to female gendered figures, not just female names.
Pop Culture – encompasses literature, film, music, TV, art, as well as cultural phenomena, i.e., astrology.
Graceful / Calm – also encompasses references that could be described as small, gentle, or whimsical.
Powerful – also encompasses references that could be described as intense, serious, strong, driven, energetic, bold, brave, intimidating, or proud.
Military – also encompasses references to hunting or weaponry.
Cosmological – also encompasses references to the seasons and time of day, as well as scientific and mathematical references.
Humour – also encompasses puns, rhyme, alliteration, tongue-in-cheek tone, subversive, odd, or light-hearted references.
Mythical / Classical – also encompasses Latin, Greek, mystical, spiritual, or religious references.
Geographical – also encompasses cultural, regional, or navigational references.
Phrases / Idioms – also encompasses colloquial language and slang.
Numbers – encompasses any numerical value found in a boat name.
Total themes
We found that the boat names in our sample could be categorised into one of thirty categories, ten of which are illustrated under the most common themes section above, and a selection of others are discussed in the rest of the article.
In total, these themes and their frequency within all themes are: 
Feminine (25.8%), Phrases / Idioms (16.6%), Nautical (15.75%), Pop Culture (14.68%), Animals (12.33%), Conceptual (9.71%), Masculine (7.97%), Geographical (7.91%), Mythical / Classical , 7.67%), Cosmological (6.95%), Humour (6.53%), Numbers (5.36%), Colours (5.18%), Nature/Plants (4.97%), Literature (4.81%), Foreign Languages (4.48%), Food/Drink (4.04%), Music (4.04%), Film (3.78%), Powerful (3.42%), Royalty/Titles (3.27%), Graceful/Calm (2.61%), Weather (2.52%), TV (1.74%), Military (1.62%), Precious Stones (1.33%), Elemental (1.12%), Historical (1.02%), Art (0.22%), Miscellaneous (8.04%).