The Telegraph recently announced that stand-up paddleboarding is one of the UK's fastest growing sports. More than 900,000 Brits are estimated to have hit the water this summer – up 30% from 2010.
Clearly, there has never been a better time to go paddleboarding. However, to make the most of this unique experience, you need the right gear. Here's a lowdown on what to wear (and not to wear) when paddleboarding.
The basics
Firstly, a lifejacket is essential. This can be a traditional vest, or alternatively a personal floatation device. These essentially resemble a belt bag and act as a buoyancy aid when entering water.
It's also worth bringing a whistle to attract attention if you get into any trouble on or in the water. In fact, these two items are legally required in many paddleboarding locations, so make sure you keep them in your kit bag.
Preparing for hot weather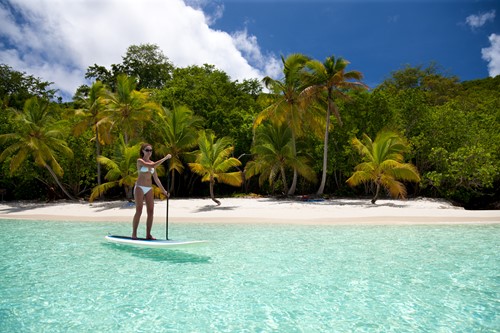 When you're out in the sunshine, it's easy for a breeze to mask the heat and potential for sunburn. Therefore, sun cream is essential – this article advises you on the best sun cream for paddleboarding.
The sun's rays can reflect off the water and cause serious damage to exposed skin and eyes. So, even if the weather is cloudy, it's important to slather on the highest SPF sunscreen available. You should also wear sunglasses with the CE mark denoting UV protection.
During the summer, most 'boarders prefer to paddle barefoot. It's a lot easier to find your feet on a board without shoes.
Summer paddleboard options:
Swimshorts / bathing suit / bikini
Short-sleeved rashguard
Short neoprene wetsuit
Light flannel shirt or t-shirt (if you don't mind them getting wet)
Cap or sun hat
Sunglasses
Preparing for a cooler climate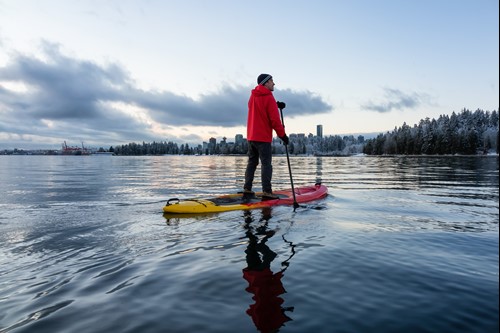 Now for more realistic conditions, especially if you're from the UK. Overcast skies and a chilly crosswind have never stopped us exploring the outdoors on land, so they won't stop us on water either.
A full-length neoprene wetsuit is a must at any other time of year except summer (and even then, it depends on the weather). You'll want to cover up those hands and feet as well, as they could numb in the chilly air. Neoprene boots and gloves will keep them warm and insulated.
You could even go one step further and invest in a drysuit. This will keep your body air-tight and dry, while allowing you to layer clothes underneath – expanding your options for keeping warm. Thermal undergarments go a long way here, as you'll get the most insulation without losing mobility.
Spring/autumn paddleboard options:
Neoprene wetsuit
Drysuit with thermal layers
Neoprene boots and gloves
Paddle cap
Paddleboarding peripherals
You might want to bring a backpack of some sort, depending on how long you plan to be on the water. At the very least, you'll want your phone close by to snap the amazing scenery.
Hydration packs like the Osprey Viper 3 Hydration Pack are the perfect choice as they're multifunctional. They're designed to store water in an internal reservoir accessed by a tube you use as a straw, which also keeps the pack buoyant. There's room for your sun cream, lunch, and any other bits you want to bring along too.
Some hydration packs are waterproof, but you can always improvise by storing your things in a dry bag inside. These tend to be modestly priced and come in a range of sizes.
Another ingenious addition to your kit is the Hydra Wallit from Alpkit. It doesn't just keep your phone dry, air cushions integrated into the design ensure it's protected from damage and floats if you drop it in the water. You can use your phone while it's inside the wallet too.
What not to wear when paddleboarding
With all watersports, you want to wear fabrics that keep you warm in colder climates, cool in hotter climates, and dry quickly. This means avoiding fabrics that absorb water like cotton, and opting for high-wicking fabrics like nylon.
Even if you're wearing water-resistant clothing, it's better to choose apparel designed for use in watersports, like rashguards or wetsuits. This way, you'll be insulated without having to layer up so much, and water can run off you without weighing you down.
You might be tempted to wear trainers while paddleboarding to feel like you have firmer footing, but these will only prove a hindrance once your feet are soaked. Regardless, you'll find your sense of balance much better barefoot.