There is something unique and peaceful about a canal boat holiday: enjoying the great outdoors, local heritage, and a slower pace of life as you float along in your holiday home.
But if you've never been on a canal boat, it's a whole new world you may not know much about. This guide on canal boat holidays for beginners will answer your questions and remove any barriers that may stop you from trying your first canal boat holiday.
Canal boat holidays for beginners
Mainland Britain has about 5,000 miles of navigable canals and rivers, many of which you can cruise on a leisurely basis on a range of different boats. But a canal boat, in particular, will provide you with holiday accommodation, too, besides being your vehicle to travel and explore.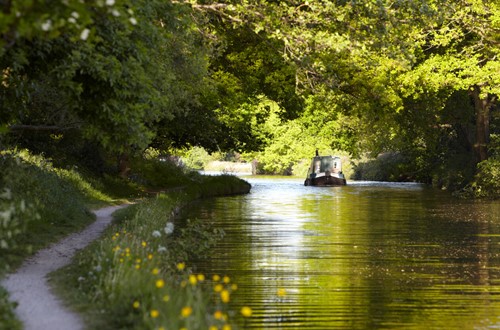 Canal boat holidays for beginners: what do I need to know beforehand?
If you're hiring a canal boat for your holiday, the hire company should show you everything you need to have a safe and enjoyable holiday on the canals, from how to steer the boat to navigating up and down locks.
You won't need a driving licence for a canal boat or narrowboat, as it'll already be licenced by the hire company. That said, if you'd like extra hands-on tuition before your holiday, you could always complete an RYA Inland Waterways Course. However, this isn't a requirement, and most holidaymakers don't choose to do this.
Who can go on a canal boat holiday?
There's no age limit for a canal boat holiday—anyone can come along. However, you'll normally need a crew with at least two adults.
Are there cooking facilities on a canal boat?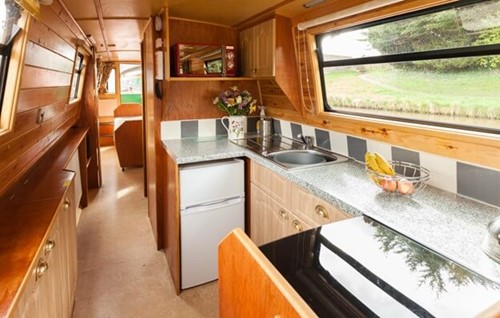 Image: Interior of Narrowboat Goldberry, from Chas Hardern
On a holiday-hire canal boat, there will usually be a well-stocked galley with all the crockery and utensils you'll need to cook a lovely meal. A canal boat holiday is usually self-catering, so no food will be included. However, you can bring food with you or pick some up along the way.
What should I take on a canal boat holiday?
The essentials:
food and drink (as mentioned, canal boat holidays are usually self-catering, so bring enough food and drink to either last the holiday or at least until you pass a supermarket). Don't forget condiments, too!
your mobile phone and charger
a torch, or several torches
trainers, or non-slip, rubber-soled shoes
clothes suitable for the outdoors
sun cream
pet bedding (if you're taking your pet)
standard pet essentials such as poo bags, toys, bowls, leads, and so on
pet life jackets (human lifejackets are normally provided)
first-aid kit
toiletries
personal medication (if relevant)
The 'nice to haves':
a pair of hard-wearing gloves (for working the locks, lift and swing bridges)
binoculars (for wildlife spotting and reading distant signage)
DVDs, cards, games and books
soft storage bags (these are easier to store than hard suitcases)
canal guidebooks (Nicholson or Pearsons are the most popular ones)
slippers and warm socks
bottled water (if you prefer)
an umbrella
your own bedding and extra towels
a camera
What not to bring:
equipment that requires a lot of energy, such as irons, kettles, hairdryers, etc. Power is normally provided by an inverter (usually 1000W), so equipment with a higher power draw than this is not permitted
bulky items like big hard suitcases
Should we pick a route with locks on our first canal boat holiday?
Locks are an essential part of the canal network—many routes would be impossible without them. They're also great fun, especially if you have a large crew and can give all the members something to do.
If you're hiring a boat, the hire company should provide instructions on how to work the locks during your handover, and by choosing a hire base near a lock, you can ensure you get hands-on tuition going through one, giving you that extra bit of confidence to enjoy your holiday safely.
In most circumstances, try not to avoid locks completely, as they're part of the fun and overall canal boat experience. That said, however, a 'lock-less' route may be a better option if you're looking for less physical effort or if you have small children onboard.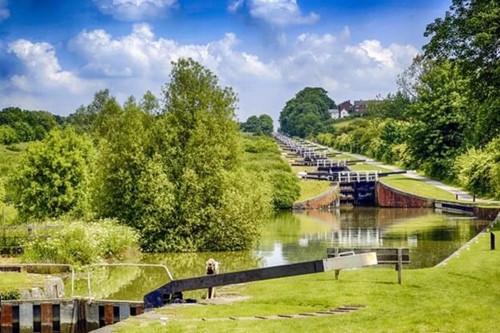 Where should we go for a canal boat holiday?
We couldn't possibly give a definitive 'best' canal boat holiday destination for everybody, as there are multiple canals throughout the UK, all unique with different pros and cons.
The best option for you ultimately depends on your crew. For example, if you're slightly older with limited mobility, your ideal canal boat holiday will look rather different to that of a young family with teenagers on board.
Nevertheless, try starting with the canals within a two or three-hour radius of where you live and narrow down your options based on your interests and crew type.
What are the most popular UK canals to holiday on?
The Llangollen, Kennet & Avon, Grand Union, Oxford, Leeds & Liverpool, and the Monmouthshire & Brecon Canals are arguably the most popular holiday canals in the UK.
Related: A complete guide to the UK canal system
What is the difference between a ring route and an out-and-back route?
A ring route is a circular route that starts and ends in the same spot, traveling along different sections of the canal in between. An out-and-back route is a linear route which takes you in one direction before retracing the same route back to the starting point.
Ring routes can be a good option for people looking to see as much of the canal network as possible without retracing their steps. However, they're generally not recommended for first-time boat hirers as they can be much more complicated than out-and-back routes.
The beauty of an out-and-back route is that you can turn around halfway into your holiday, confident you'll make it back in time to return the boat to the hirer. You can cruise and enjoy your holiday without the added stress or worry of getting lost or running out of time.
How long is a canal boat holiday?
The shortest amount of time you can normally hire an overnight boat for is three nights, but four-night breaks are also often an option.
By having a three-night break over the weekend and a four-night break over the week, hire companies make sure people are out enjoying their boats as much of the time as possible.
A two-night hire is sometimes an option for smaller operators or during the quieter months; however, booking for three nights and asking to return the boat one night early may be a better option as it'll give you more flexibility.
How much does a canal boat holiday cost?
The cost of a canal boat holiday depends on various factors.
When booking through Roam & Roost Canal Boat Holidays, the most affordable option for summer 2024 is currently £684 for a 3-night weekend on a 4-berth boat or £1,000 for seven nights on a 2-berth boat.
However, this will change based on how many people the boat is for, the length of the hire, the location, and the time of year.
What's the best time of year to go on a canal boat holiday?
The summer months, with their longer daytime hours (i.e. more cruising time) and better weather, make them the most popular (but expensive) time of year to travel by boat.
The spring and autumn months are generally cheaper and still provide a great time to get away, although with slightly fewer daytime hours and the potential for worse weather.
It's worth noting, too, that many hire bases close for winter—however, some stay open and offer cheap rates. If you choose a winter hire, you'll, of course, need to contend with winter stoppages, closures, and potentially some very British weather. With a set amount of boats available, it's generally better to book at least a few months in advance, as in-demand periods can book out early, although last-minute deals are sometimes available.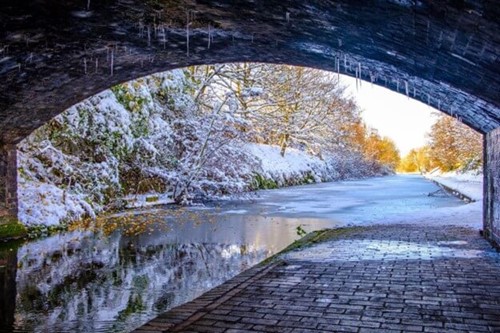 How many people can go on a canal boat holiday?
The maximum allowed on any canal boat is 12 people, with 12-berth boats generally better suited to those with a mix of children and adults. If you have more than 12 people or 12 adults—for which a 12-berth boat may be a little too cosy—then you can always hire more than one boat, subject to availability.
I'm swayed. How can I choose a hire base?
Once you've decided on a rough location for your canal boat holiday, it's worth researching the hire bases in that area and reading reviews and recommendations. Feel free to pick up the phone and talk to them, too.
If you'd prefer, you can also use an agent, such as Roam & Roost Canal Boat Holidays, which has partnered with multiple hire bases up and down the country. The team there is always happy to help and provide options for consideration.
About the author
James Anelay is the Co-Founder of Roam & Roost Canal Boat Holidays. Having explored the canal network on their narrowboat "IMVUBU", James and his wife Sabrina now run Roam & Roost Canal Boat Holidays to help people find the best canal boat holiday for them.